Product > Edinburgh Realism Extreme Nail Art Brush
Edinburgh Realism Extreme Nail Art Brush
Model : #1.3.5
Market price :
US $ 28.60
SIZE
Member price
SN
Quantity

US$25.70

Join!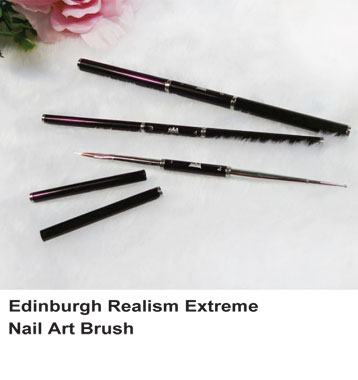 Product Information
Edinburgh brushes in order to have a rigorous and meticulous quality pedigree, and much loved by professionals.
Limit of two-headed painted pen, allowing you to use more paint handy.

1 imitation mink, satin brass, aluminum, lid with exclusive pen
2 # 1 nib width 4.6mm, brush the length of 8.0mm; # 2 bead width of 1.4mm
# 3 nib width of 0.8mm, brush the length of 12.0mm; # 4 nib width 0.8mm, length 7.0mm brush
# 5 nib width of 1.4mm, brush the length of 9.0mm; # 6 nib width of 2.6mm, brush length of about 7.0mm
Ingredienst:
How to use:
Full range of professional specifications used by the U.S., for the production of a variety of hair shape, any pattern of nail painting,
The use of double-headed design:
End # 1: Drawing case and the adhesive can point diamond or water pollution and many other uses.
End # 2: the more easily draw the line width, is the choice for professional use.
End # 3: All of the feather can be directly placed in the paint picks up a face, a long line can immediately make the perfect present,
Also applies to outline the painting.
End # 4: You can draw fine patterns on the best choice.
End # 5: Sable picks up better, can easily outline the elegant lines.
End # 6: oblique brush to draw a two-color painting.